Scan2x is an intelligent document-capture solution that brings the power of professional scanning applications within reach of every user in an organisation.
By simply pressing one button, users choose scan jobs that perform complex tasks with zero training.
Furthermore, Scan2x can prompt the user for confirmation or additional information at scan time based on the data in the document being scanned.
Intelligent document recognition means that it is able to detect and interpret specific regions and process accordingly, and workflows can use rules to route multiple outputs to different destinations automatically.
Intelligent scanning software without the complexity
Focus on your business while the Scan2x captures your documents. Advanced technology automatically applies the right settings, recognises key data and transfers it, making it ideal for optimising efficiency without extra training.

Accuracy & Automation
Onboarding documents can be tedious and can result in human error. Scan2x automatically recognizes documents, verifies the details, and forwards them to the relevant department. Simply drop the document into any scanning device, scan, and walk away.

Accountability
With Scan2x, your documents can be traced back to the person that entered them into your system. Today's businesses face stringent regulatory checks; this makes your system completely intuitive, transparent and traceable.

Traceability
How quickly could you access last year's forecast figures, or your phone bills from 2012? Instantly! Scan2x automatically organises where and how your documents are filed, making it easy for you to track them down when you need them.

Simplicity
Scan2x takes decision-making out of the scanning process by doing all the thinking for you. Simply select the job you wish to do, and the automatic settings will determine everything from scanner settings to that document's next destination.

Customisation
Whatever your business process, Scan2x can be tailored to meet the intricate requirements of a multi-national, financial institution, or paired right down to suit the needs of a small online start-up.

Adaptability
Scan2x can be taught to recognise anything, from identity documents to bank statements and invoices, through built-In OCR, Forms Recognition, QR Code and Barcode Recognition, and Cheque MICR Functionality. Scan2x just keeps on learning.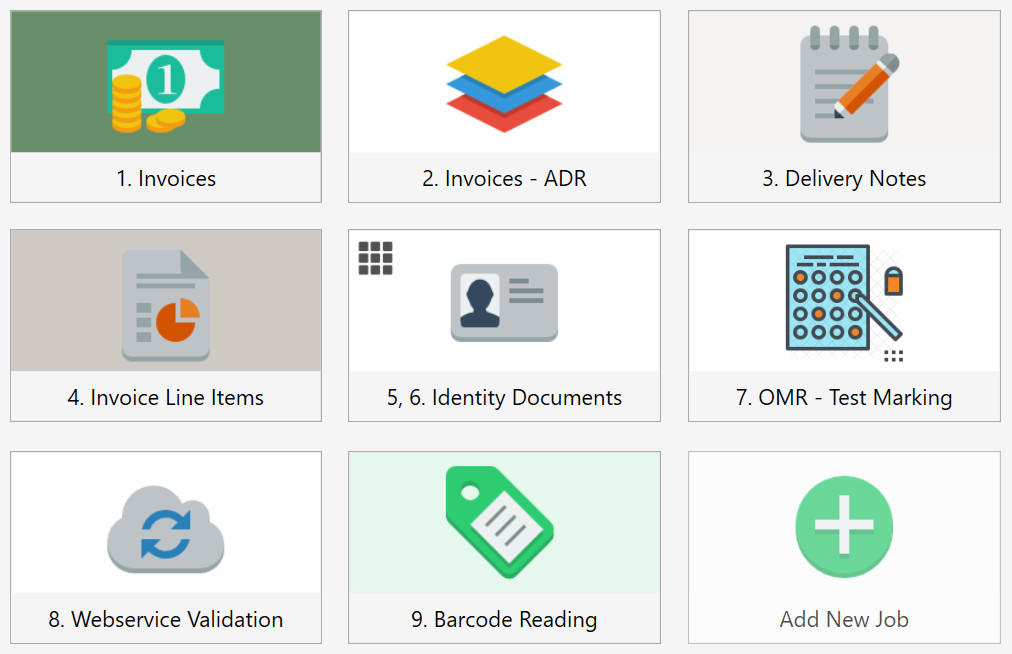 Features
Active Directory integration
Intelligent batch splitting
Integration with DMS, Sharepoint, FTP, databases, web services, email etc
Multiple simultaneous outputs
Full activity audit for compliance and security
ID/Passport scan, expiry date, tamper checking
Comprehensive scan workflows for automated distribution
Form line-item extraction (e.g. invoices)
Intelligent document type recognition
Optical Mark Recognition (for exam auto-grading, surveys etc.)
Network fault tolerance (works when disconnected)
High-performance PDF compression
Monitor folders and email boxes to automatically process incoming documents*
*Requires Scan2x Workload Server licence
Who we've helped
Scan2x is in use worldwide banks, insurance, manufacturing, aviation, health, education, government, immigration and more.
Download free trial
Download a free trial version of the Windows installation of Scan2x by filling in the form below and pressing the download button.
The trial license is a fully-featured 60-day licence
An email will be sent to you with an activation key immediately following the download.
---